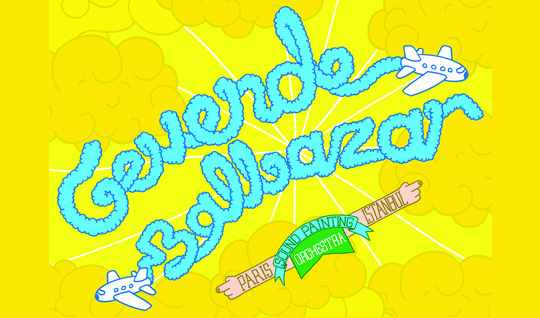 What happens a sixteen people orchestra from Paris and Gevende make music together on the same stage? In April, it would be possible to answer this question.
Balbazar is a sound painting orchestra based in Paris. Sound painting is a method used to lead an orchestra. The roads of Gevende and Balbazar intersect in 2008. Gevende's language with no meaning, Balbazar's body language and music's structure beyond any language, several common points bring these two bands closer. In 2009, in the framework of Turkish Season in France, two bands made rehearsals, workshops and have given three concerts in July and October which attracted considerable attraction.
From the very beginning it was important to bring Gevende and Balbazar together in Turkey, but it is not easy to invite an orchestra composed of sixteen people. Supports of Istanbul French Institute, Baykuş Music and Pave Jazz achieved to realize it.
Gevende and Balbazar will give three concerts in Turkey in Ankara, Istanbul and Eskisehir. Don't miss them…
————–
Gevende & Balbazar concert dates
22 April Ankara EskiYeni, 22:00
28 April Babylon, 21:30
29 April Eskişehir Hayal, 23:00
—————-
Gevende & Balbazar @ Paris, concert video http://vimeo.com/5786601
---
Comments are closed.